Art in the woods
11/10/21 11:02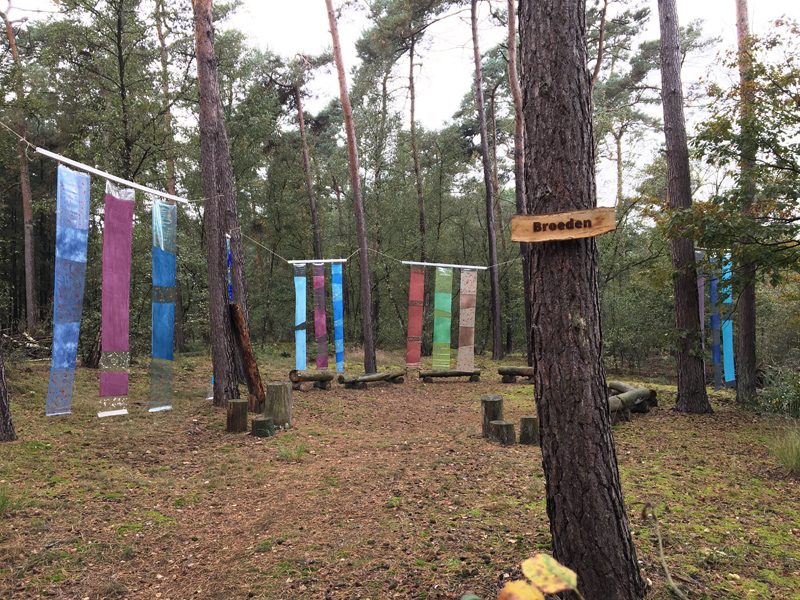 Panta rhei, 2021, 15 panels H300 x W50 cm each
Close to the entry deadline I decided to make an outdoor work for
Kunstsmullen 2021 Heeze
. It was so wonderful that we could exhibit again after this bleak and empty artless period. Two years before I had already thought about the concept intended for an outdoor work, so now I could finally execute it. Which meant making samples, samples and samples…
The idea behind Panta rhei, Greek for 'everything streams', meaning that nothing will stay as it is, that everything will change in the course of time. I have explored this theme by dyeing textiles and painting plastic with non fixed paints and dyes, not making use of chemicals or heat. Rain would slowly (or faster) change the fabrics and plastic, natural inks like Bister or Quinck washing out quickly, Procion and gouache a bit slower. No acrylics of course.
3 weeks for this process to happen could very well be too short, but then, only one big downpour might do it for me. Part of the process is making photos of the installation during the exhibition. I'll post the process in due time.
The installation itself was challenging, getting three 3 m long panels on battens at about 3.5 m in the trees and lifting both sides at the same time. With good help we managed. And I have overcome a slight fear of heights on ladders.